The Victorian Government is currently offering a rebate under the Solar Homes Program. Suppose you are an eligible Victorian household and plan to install a solar battery; you may receive a rebate listed at a maximum of $4,174. However, once they are all allocated, Solar Homes may lower the current battery rebate to $3,500.
Am I eligible for a solar battery rebate?
These rebates are currently available to all Victorian postcodes. To check further eligibility, have a look at the solar and battery rebate guide. Rebates are also available for solar panels (PV), hot water systems and solar batteries. There are also solar rebates available for rental properties.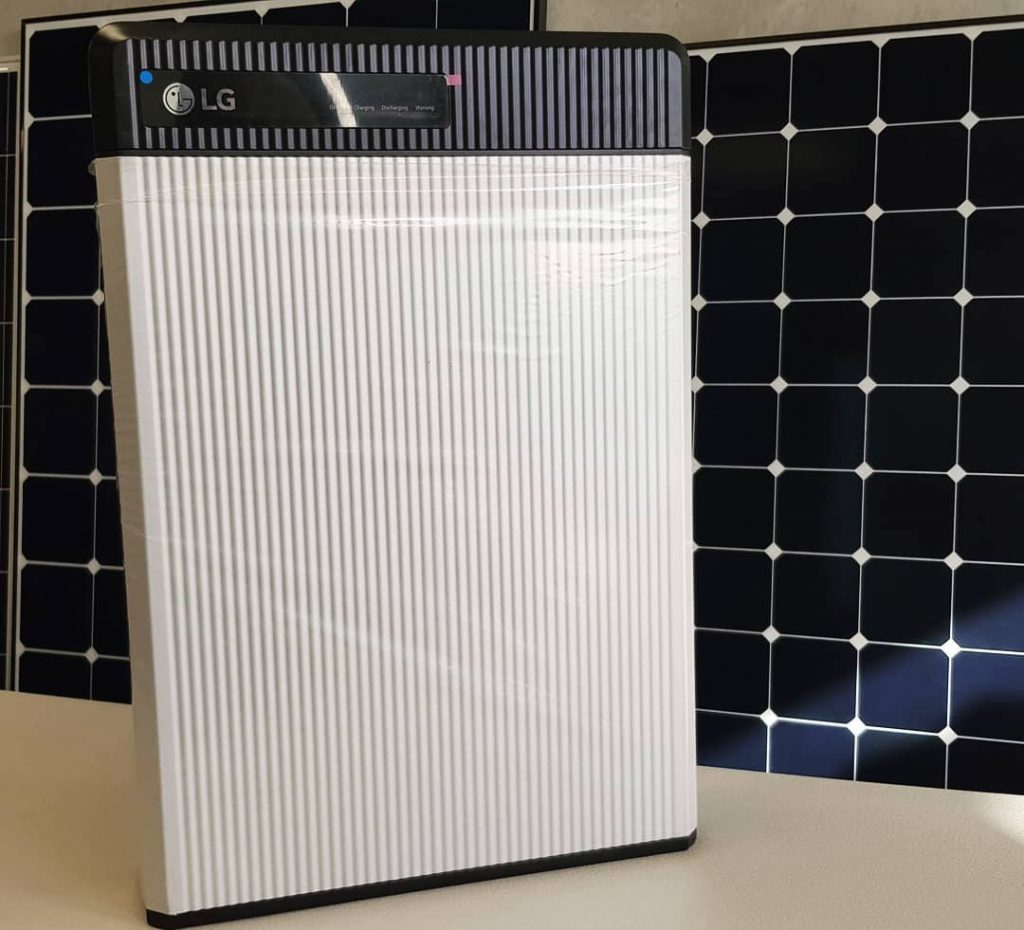 What types of batteries are included?
Solar Victoria has an approved product list that contains products for the rebate. Batteries must meet the minimum technical specifications, designed to protect customers. View a PDF of the specifications here.
Approved systems must include performance, safety, internet accessibility, security, remote registration, monitoring. As well as this, certain safety control features and network support services need to be enabled.
Who can install a battery?
Installers must have a current accreditation from the Clean Energy Council, a battery endorsement, and an A-Grade electrical licence issued by Energy Safe Victoria or equivalent.
Sky Energy's installers and engineering team have the qualifications, extensive experience and knowledge required to install and maintain solar batteries for residential, commercial, and complement existing solar systems.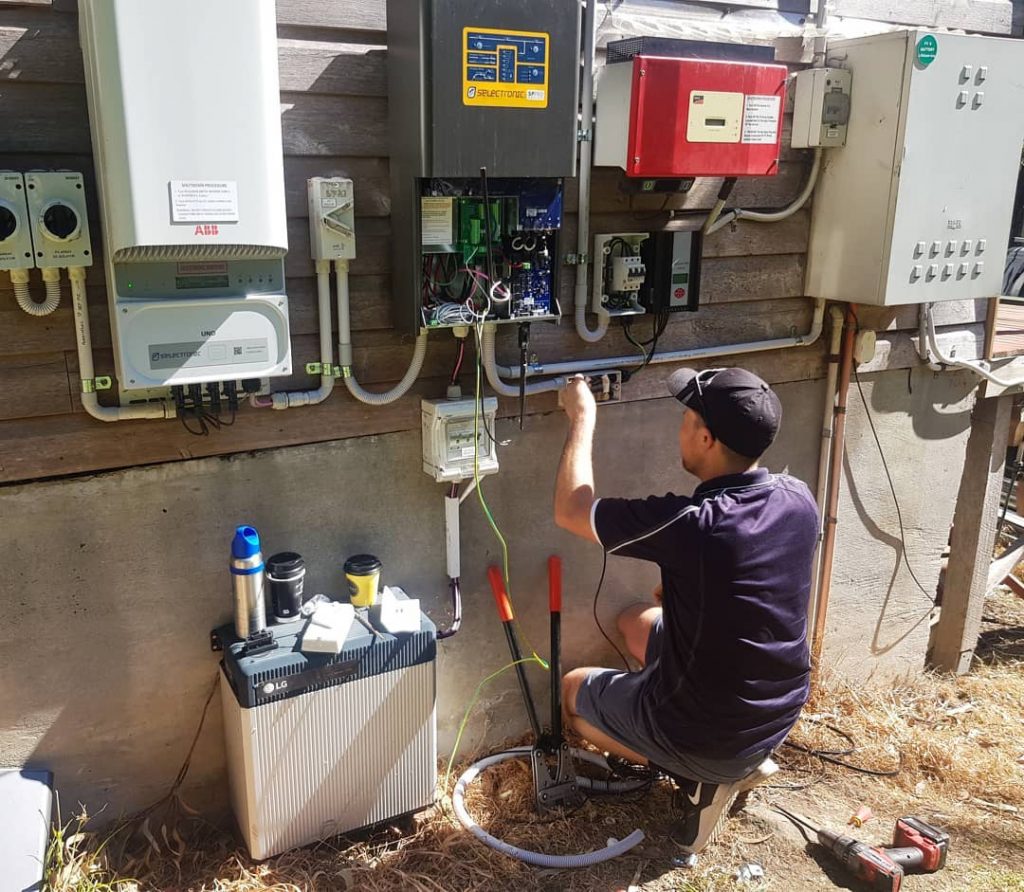 What to look for when buying a solar battery
The quote a solar company provides you should include a system design, energy generation and savings expectations, warranty terms, and a list of included components.
It's essential to understand warranty terms as they will consist of two parts. Firstly, the manufacturer's warranty is related to the products themselves and held by the product manufacturer.
The second part of the warranty will be the Approved Solar Retailer's (or the installation) warranty. This installation warranty will cover the installation, operation and performance of the system.
What is the capacity of a solar battery?
Kilowatt-hours (kWh) is the term used to describe residential and commercial battery capacity. KWh is the same measurement used for your electricity bill.
KwH is helpful to know when sizing up the correct capacity battery for your home or business because you get a solid idea of what size battery you will need by looking at your electricity bill and finding your 'average daily kWh'.
Say your daily average is 20kWh, and you estimate half your energy usage is during the night. You will need a 10kWh battery to cover your average nighttime energy use (half of 20kWh, which is your total energy use).
All batteries also have a 'depth of discharge' (DoD). This 'DoD' indicates total usable capacity, usually less than the battery's total capacity. Compare batteries based on their DoD rather than total capacity.
Lithium-ion batteries typically have a Depth of Discharge of about 80%. This 80% DoD means a Lithium-ion battery listed as 10kWh will have a discharge capacity equal to 8kWh.
In contrast, lead-acid batteries usually have a DoD of about 40%, indicating a 10kWh lead-acid battery has an actual discharge capacity (or DoD) of 4kWh. Most battery brands allow you to install multiple batteries to increase overall storage capacity.
As seen in the example above, DoD is usually related to the battery chemistry type. Make sure you consider DoD when choosing the right size for your solar battery.
Where can I install a solar battery?
Battery systems can be mounted on a wall or floor-standing and carry varying IP ratings.
Each product's IP rating determines its protection against dust and water damage and influences whether a solar battery is weatherproof or not. The IP rating, therefore, determines installation location choices.
Batteries designed for outdoor installation come with a weatherproof, IP rated enclosure. For example, Sky Energy has developed a proprietary self-contained unit, the SkyBox, designed for the Australian climate, installed indoors or outdoors.
An exception is that no battery can be installed within a 'habitable room' (as per the building code).
One popular choice is to install the battery in the garage as it provides adequate ventilation and protection from the elements, which may prolong the battery life. Or down the side of the house, near the switchboard and out of the way of everyday traffic.
Consider your battery's IP rating and then choose a suitable location that you prefer.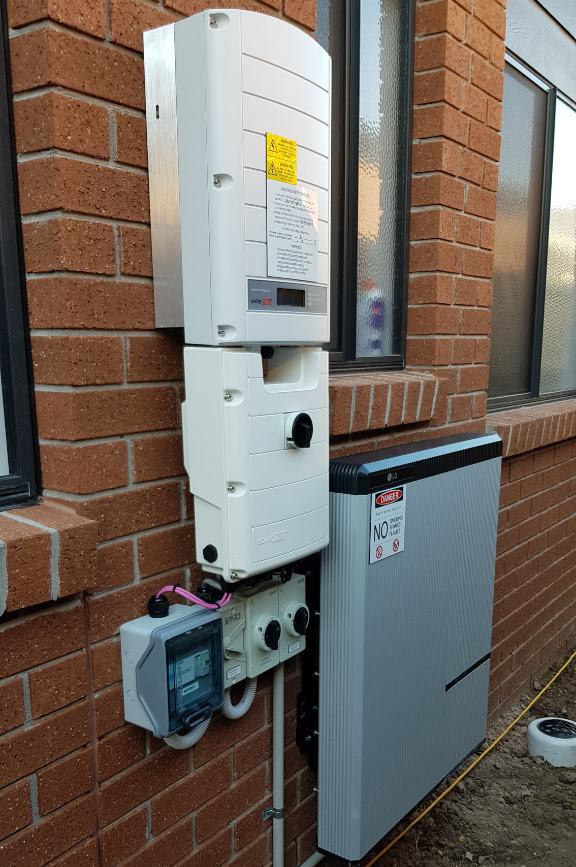 How long does a solar battery last?
Although battery warranties vary, most solar batteries have a 10-year warranty and are often rated to last longer than their warranty period.
Also, consider that the ability to store energy reduces slowly over time and also with use. As a yardstick measurement, lithium-ion batteries generally have a 60%-80% discharge rate for 4000 to 6000 cycles. After this, the discharge percentage slowly continues to reduce with time and use.
What should I know about 'Feed-in tariff'?
FIT rebates refer to the extra credits you receive on your electricity bill for 'feeding' extra solar power back to the grid. Each state treats feed-in tariffs differently, and it's worth checking out the local solar feed-in rates (or FIT for short) with your local distributor, as these can change over time.
For example, in Victoria, an energy company will generally pay you the minimum feed-in tariff for the excess solar power you export to the grid, which at this time is about 10c credit per kWh sold. This solar credit will be about $1 a day for the average homeowner and up to a few dollars per day for larger solar systems.
Keep in mind, not every home or business is eligible for a FIT, and it's worth checking your FIT eligibility before installing your solar or battery system (your solar or battery supplier can do this for you).
Receiving the FIT won't make a massive difference to your solar savings. Still, the extra few dollars a day can come in handy for covering your daily electricity supply charge (which is usually about $1 a day).
According to the Essential Services Commission Victoria – "Retailers can offer solar system owners a choice between a single rate or time-varying tariff. Retailers have to provide you with at least the minimum tariff.
Read more about it the feed-in tariff here.
The team at Sky Energy can help with you choose the right battery
Our team at Sky Energy can help you calculate potential savings by considering the many factors making up the most efficient system, such as size, energy use profile, energy exported, eligibility for government rebates and feed-in tariffs. We can also help you with off-grid, and commercial solar energy and battery systems.
Here are some things to consider when you make your solar and battery enquiry:
• What will be the total installed cost of the battery storage system
compared to the expected lifetime output?
• What is your budget?
• Which system would suit your tariff structure, and is your house eligible for a FIT?
• Do you have enough and appropriate space to install a solar battery or solar panels?
• Will the battery supply enough energy for your lifestyle?
• Do you need any 'off grid', blackout protection, or UPS (uninterruptable power supply) features to keep your appliances running from the battery during a blackout?
• Cost vs quality, for example, is it worth spending more to have a higher quality battery with a deeper DoD, or better warranty, after ten years (for example, a battery that might have 60% capacity at ten years, vs. a battery with 80% capacity at ten years).
• What is the reputation and track record of the company that will be installing your solar and battery system? (check reviews and ask for referrals).