The recent boom in tiny homes and tiny home designs has generated more interest than ever in off-grid solar installations. Solar energy offers the best way to be completely self-sustainable and independent. The power consumption of these smaller dwellings can be satisfied easily with solutions such as our pre-built SkyBox.
What is a tiny home?
The International Residential Code definition states a tiny house is a dwelling with a floor area of 37 square metres or less and not including lofts or second storeys. The Australian Tiny House Association (ATHA) defines that a tiny house as a moveable dwelling suitable for permanent residential use, with self-contained amenities and services and the option to be grid-connected.
Tiny houses are mainly grouped into two categories: on wheels or skids". A house on "skids" basically sits on a platform or a foundation and doesn't move.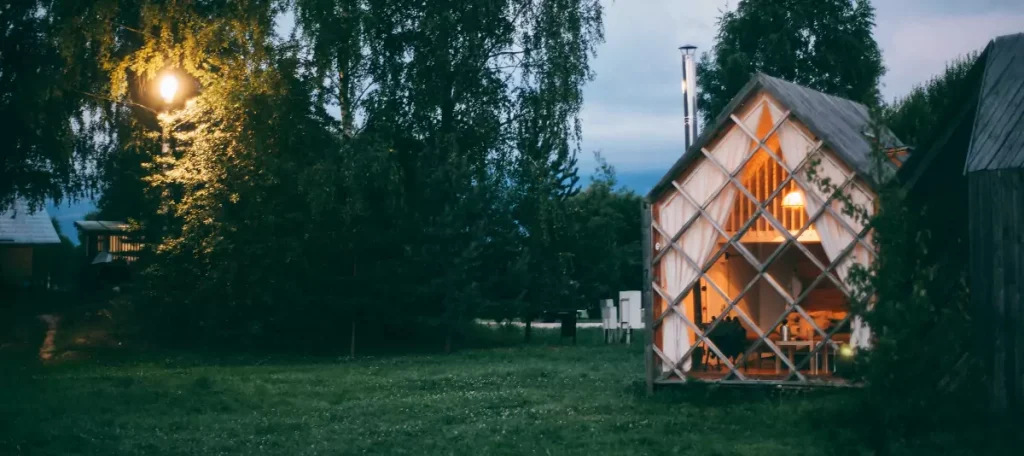 Tiny house trailers must be designed and constructed following Vehicle Standards Bulletin VSB1 for trailers not greater than 4.5 tonnes aggregate trailer mass. Or where greater than 4.5 tonnes must be designed by a Structural Engineer. Tiny house skids have to be certified by a Structural Engineer.
A tiny house should have access to a source of electricity. Fire authorities have recommended battery-powered radios to receive emergency information as power is often cut during bushfires. A source of electricity could be from a mains power supply, wind power or, more often than not, solar power.
Furthermore, a tiny house needs to have a potable water supply. Meaning the resident should be able to access a source of water that is of drinking quality. This water can be from the mains, a water tank or other water supply the same as a traditional house.
ATHA have more information on Tiny House regulations – download the PDF.
Tiny Home Options
Tiny house options are endless, and recently many different styles have emerged. Some are architecturally designed, some companies offer ready-built options. People have built their own from everyday recycled materials, shipping containers being a popular choice, and old buses or vans being repurposed. They can be constructed quickly and economically, with prices ranging from $10,000 to over $100,000 for dwellings with unique features.
Interestingly National Building Construction Codes relate to buildings permanently affixed to the site, so there is no clear legislation concerning approval of tiny house construction under the NCC. Because of this, owners have defaulted to the Vehicle Standards Bulletin 1, which was initially applied to caravans.
Tiny House Solar
Due to the modular nature of tiny houses, they are a prime candidate for off-grid solar units, including solar batteries for when energy is not being generated. Being fully self-contained units, you can easily calculate how much energy you require and design a system to suit your needs.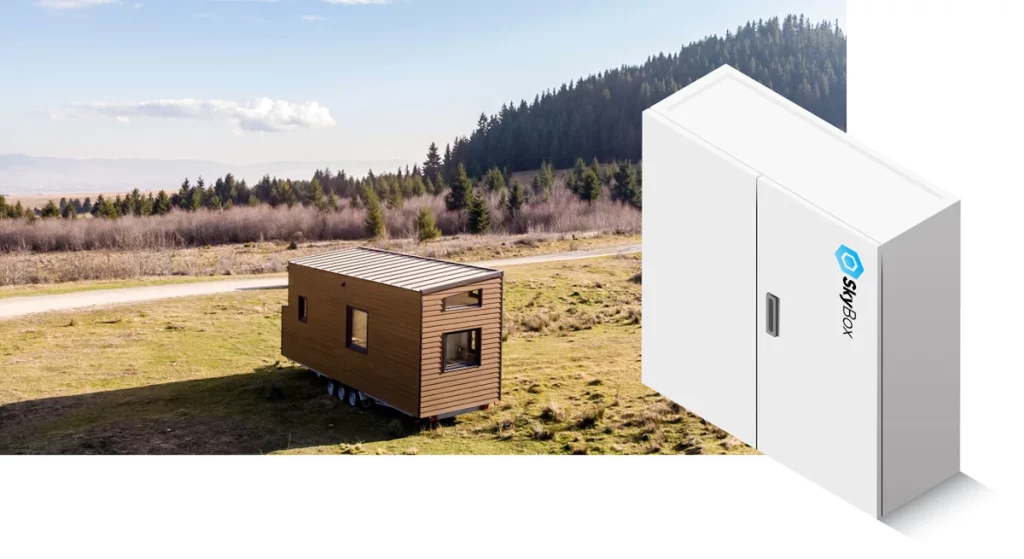 There are many available solar configurations; however, Sky Energy has built their specialised SkyBox system to simplify everything for customers. Using tried and true components offering robust and efficient performance, we provide tiny homeowners with a solid solution to their energy requirements.
For retailers, we can provide the self-contained units either installed or offer training for your team to install and configure the SkyBox onsite or even during manufacture. Instead of having to source the individual solar components, we provide everything, saving you time and energy finding parts and assembling and delivering the SkyBox ready to plug and play.