Off Grid Solar Systems
It's our dream to help every Australian get 'off the grid' one day. This dream keeps us on the leading edge of off-grid solar, solar batteries and stand alone solar systems.
Get a quote now
Off-grid energy – what does it mean?
Off-grid solar systems or stand-alone solar systems are designed to provide electrical energy where grid power is unavailable. An off-grid system consists of solar panels a solar battery to store and supply power, and an inverter to control input and output of generated power and optionally a backup generator.
Modern off-grid systems offer online automation and monitoring, providing you complete control over the energy produced and also excess energy stored in solar batteries. The technology for off-grid solar and solar battery systems is constantly improving.
We build off-grid power systems for everything from tiny homes to factories and dairy farms. Our SkyBox is one of the most reliable and powerful off-grid systems in the world, and comes in a range of sizes. Get in touch with our expert team to learn more today.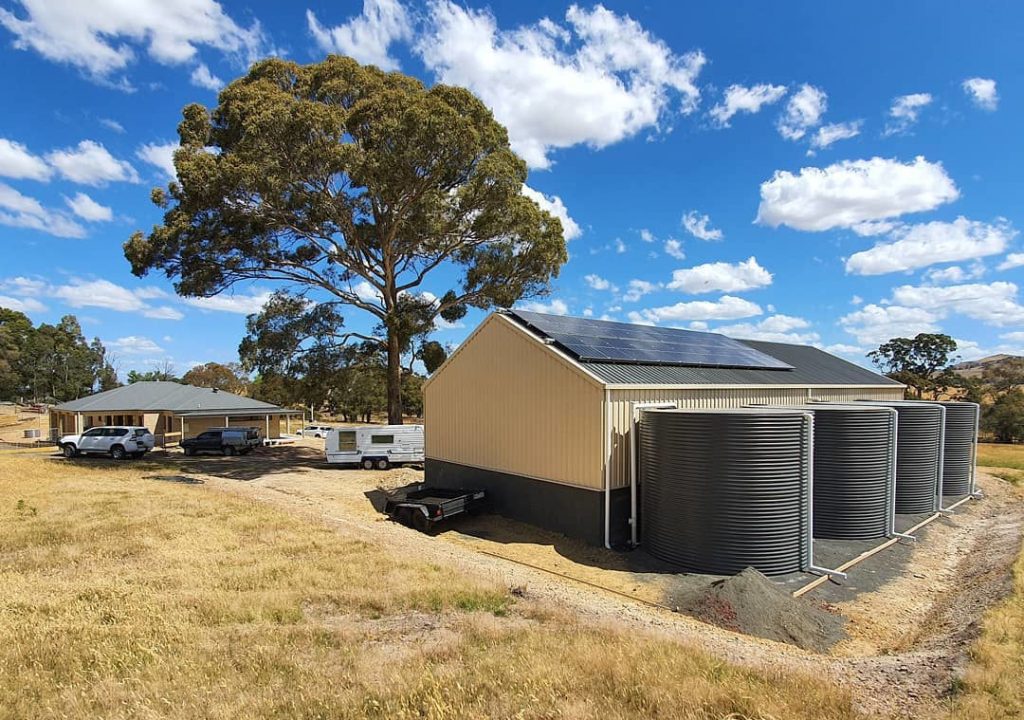 Having no powerlines to the property is considered to be 'off the grid'. Homes like this are fully self-sufficient with no connection to the mains power supply. To achieve this requires solar components such as PV panels, an inverter and lithium-ion battery systems.
Stand alone power systems
Taking into account rising electricity prices, the decreasing prices of solar and lithium batteries and the desire for more sustainable energy production, many people are now switching to off grid solar systems. PV panels combined with an inverter and a solar battery make independence from the grid a reality.
For those living or planning to live in the country, an off grid solution can not only be more cost effective but actually offer better protection against blackouts and other disturbances.
Due to the advancements in lithium-ion technology, off-grid systems are expandable meaning an Australian choosing to live off-grid are not restricted by battery storage.
We can help you with the various components and considerations when it comes to power consumption and work with you to build a cost effective and robust system.
Off grid energy explained
A stand alone, or 'off grid' system generates energy from your solar panels and charges a solar battery, then uses an inverter to provide this power to your home or even back to the grid. Using a solar battery means you can store excess power and draw from this energy reserve whenever required.
Important – not all battery systems come with blackout protection so keep it in mind when you're planning a system or upgrade.
SkyBox – our fully self contained off-grid power supply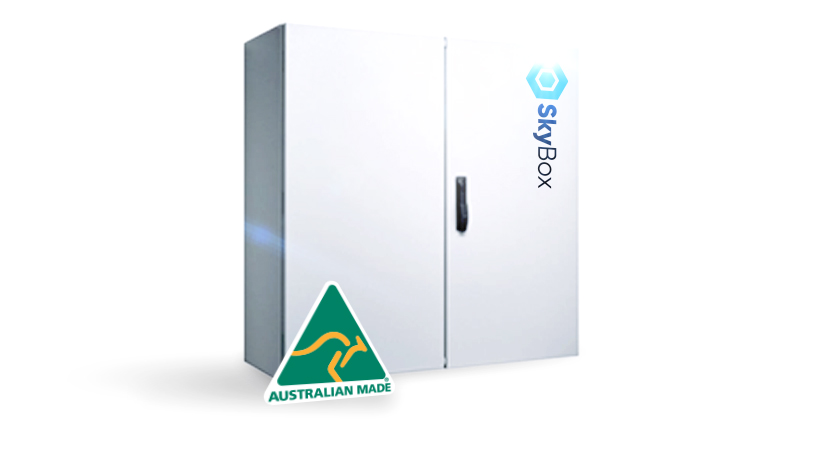 Sky Energy have developed the SkyBox; an easy install off-grid solar and battery inverter, designed for both indoor and outdoor use and providing huge battery capacity in one cabinet. The SkyBox can simply be installed by a registered electrician.
This means you can enjoy all the luxury of being on the grid while being off the grid! When you are ready to expand, simply add more batteries to suit your storage requirements. Being fully off-grid certified, SkyBox gives your home easy use, powerful and low maintenance off-grid energy. Read more about SkyBox here.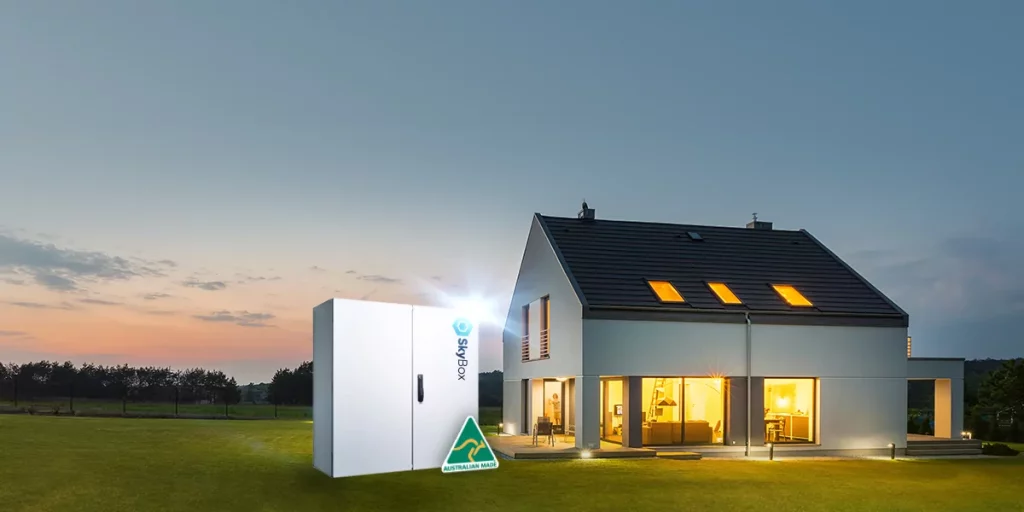 Monitoring your system remotely
Take advantage of our panel monitoring service and sit back, knowing your panels are making use of the sun's energy to their full potential. We are your eyes and ears. If any problems arise, we are alerted and take steps to sort them out for you quickly.
The advantages of remote monitoring mean you can have complete visibility of the performance of your off-grid system, technically and financially as well as alerts for any issues with your system.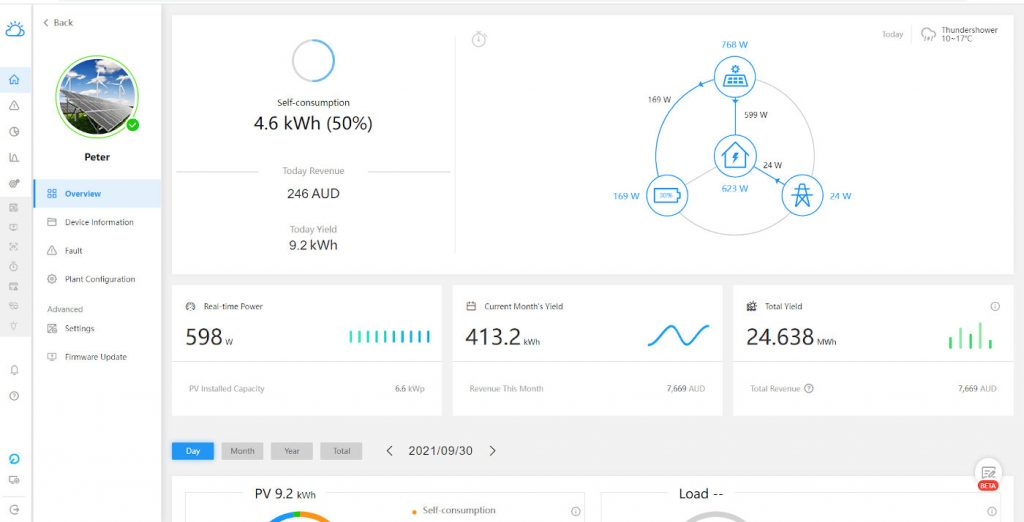 Analyse your power consumption, battery levels, and usage patterns plus live power, voltage, and frequency data can help diagnose site issues and monitor energy usage.
The advantage of live monitoring means you can identify why your solar system may not be performing at its peak. High-resolution data, including aggregated data, can easily be accessed from your smartphone, tablet, or computer. This also allows remote troubleshooting by our installer, maintenance, and SkyCare team to resolve any issues quickly.
How an off-grid energy system works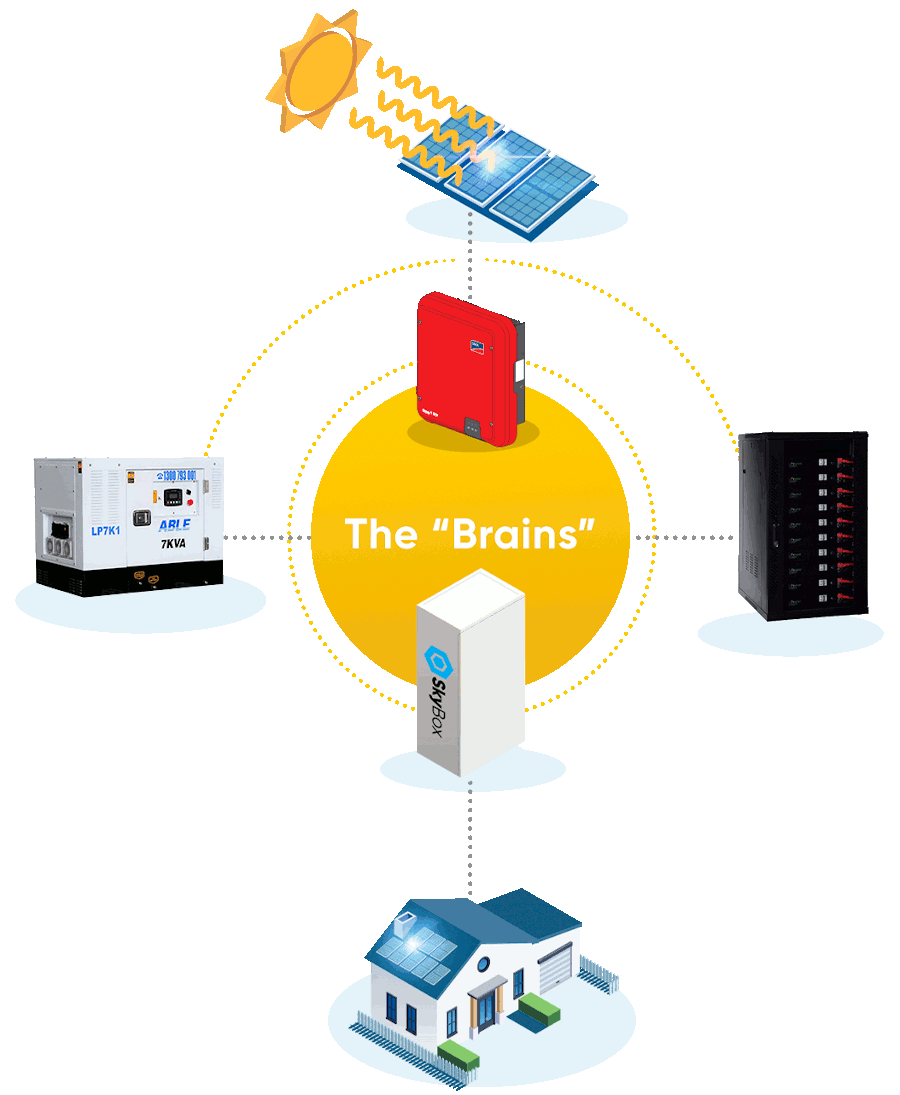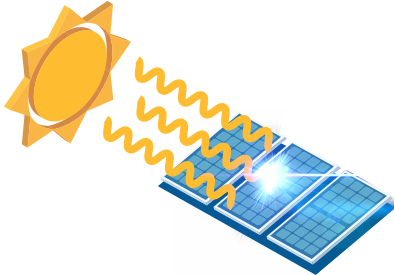 01. Solar
The sun's rays hit your solar panels and begin generating free electricity
02. The Inverter
The solar inverter takes power from the solar panels and converts it into usable power for your home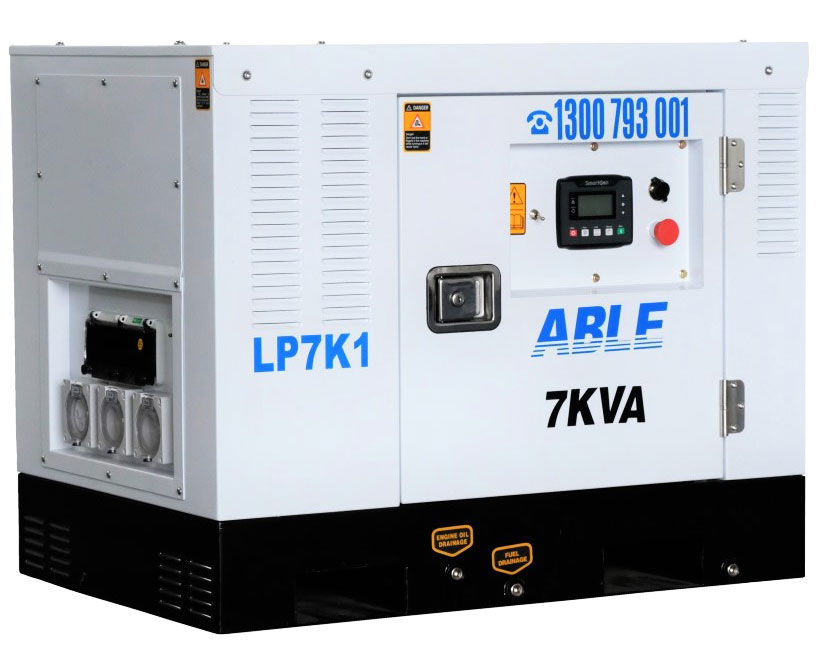 5. The Generator
The generator acts as a 'final resort' once your batteries are flat and there's no sun (from the solar), no wind for your turbine, the generator will make sure your home is always in power, even during the dark days.
6. The Lithium batteries
Lithium batteries give your system a huge amount of power, off grid like you've never seen before. Lithium means like off grid – feels like on grid.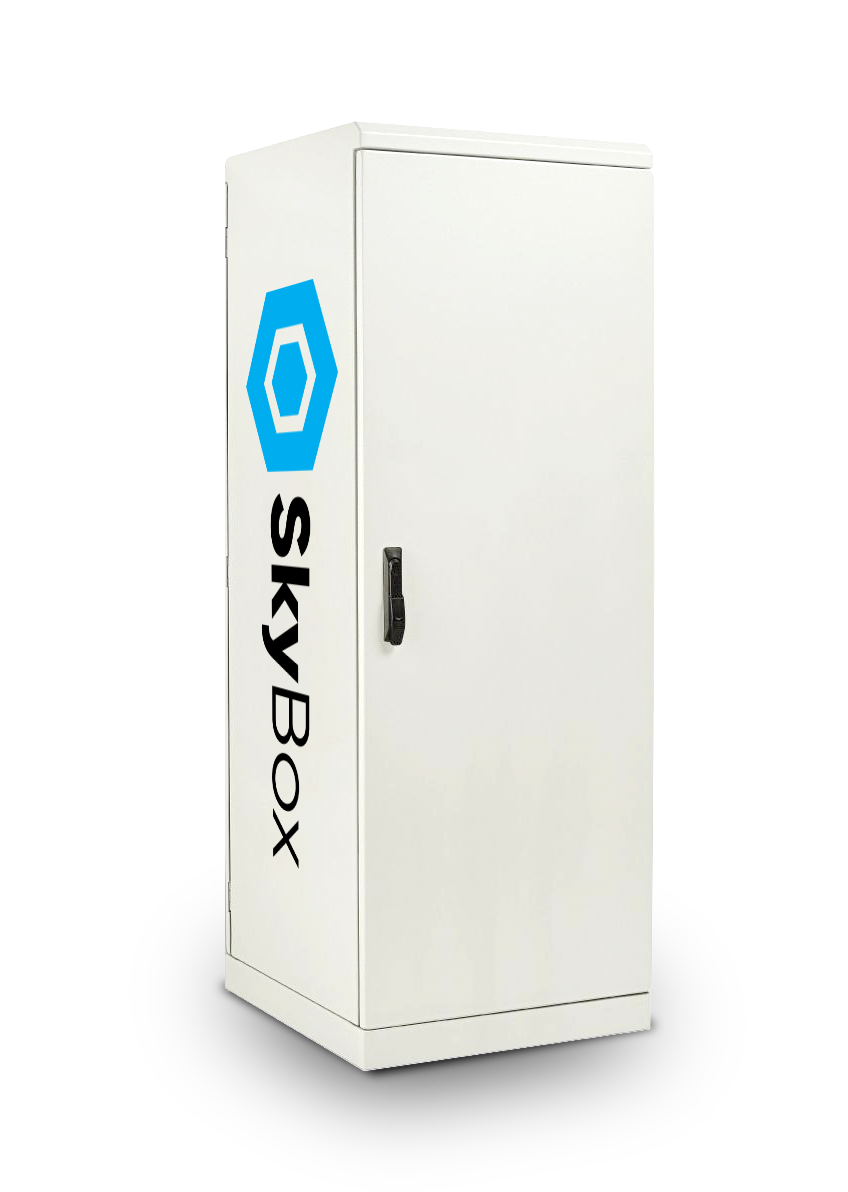 03. The Brains
The Brains of the system, the SkyBox, acts like a conductor in the orchestra, it balances and manages power flow from your solar, wind, hydro, generator and makes sure the home always has a steady 240V flow of electricity. It manages everything for you to make it feel like you're living on the grid.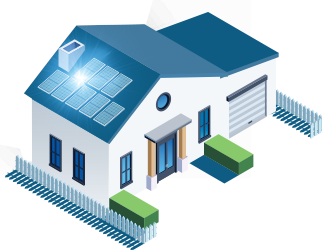 4. The home
Your castle, empire, shed or chateau
+
+
+
+
+
+